Marked improvement in patient survival and dramatic reduction in hospitalization rates and costs, according to a study from Brazil
San Diego, CA, Oct. 25, 2018 — Positive new findings of in-center short daily hemodialysis were presented today at the American Society of Nephrology (ASN) Kidney Week 2018 Annual Meeting being held October 23-28, in San Diego.
The research was conducted by a group of nephrologists from Centro Brasiliense de Nefrologia & Dialise (CBN&D), Brasilia, Brazil. This abstract entitled "The 13-Year Experience of Performing In-Center Short Daily Hemodialysis: Who Pays for It?" and prepared by Mateus Pascoal, Andre Fernandes, Adolfo Simon, Kelia Xavier, Vilber Bello, Juliane Lauar and Istenio Pascoal demonstrates how they have configured dialysis delivery, improved patient outcomes and managed resources to achieve an optimal sustainable dialysis practice for their 176 consecutive unselected dialysis patients.
"CBN&D answered the challenge to overcome the unacceptably high mortality rate of conventional thrice-weekly hemodialysis (CHD) by increasing dialysis frequency to six or seven times a week, 2 hours duration treatments - a widely recognized but costly way to improve quality of life and survival of dialysis patients. To make this frequent dialysis schedule financially viable, we aimed to reduce the usual high hospitalization rates and costs", said Mateus Pascoal, first author of the present study.
CBN&D in-center short daily hemodialysis program operates five 2-hour shifts per day - a 67% higher productivity without increasing fixed costs, as compared to conventional three 4-hour shifts per day. The average missed treatment rate was 1.47% and an incremental negotiated approach reached universal insurance coverage for daily regimen. Average annual hospitalization rate (2.97 days per patient-year), kidney transplantation rate (7.5%) and mortality rate (7.3%) were far better than reported for brazilian CHD hospitalization (12 days per patient-year), kidney transplantation (4.6%) and mortality (19.9%) rates. Daily hemodialysis consumables cost doubled, adding 25% for patient overall costs. Conversely, hospitalization rate was 75% lower, reducing overall costs by 30% and offseting the additional supply cost.
"Hospitalization accounts for up 40% of all dialysis patients expenditures, leaving no more than 60% for the procedures related to chronic dialysis. It is like a vicious circle, where an underpaid suboptimal dialysis prescription leads to high hospitalization rate, whose high costs prevent a more protective dialysis schedule when patients are discharged from hospital back to the maintenance dialysis setting", Pascoal added.
CBN&D team decided to break this circle. Taking care of private-insured dialysis patients, they were able to negotiate an increase in the dialysis frequency promising reduction in the hospitalization stays and expenses. "Our high flux hemodialysis costs naturally increased while hospital costs decreased even more with the daily treatments. It was like paying a more expensive ticket for a cheaper trip", said Andre Fernandes, Chief Financial Officer of CBN&D.
"These impressive real-world findings reveal a superior clinical performance of daily dialysis patients, including lower length of hospital stay, higher kidney transplantation rate and very low mortality rate - all the desirable outcomes for patients under renal replacement therapy", said Dr. Juliane Lauar, CBN&D Medical Director.
"Dialysis programs around the world are guided by the question: - What care can we provide with the resources we have? We asked the reversed question: - What resources are required and how should they be configured for the care we need to provide?," said Istenio Pascoal, nephrologist and CBN&D CEO.
"With clinical and economic variables combined, it has been possible to sustain a distinctive yet affordable maintenance hemodialysis program", the authors wrote.

The 13-Year Experience of Performing In-Center Short Daily Hemodialysis: Who Pays for It?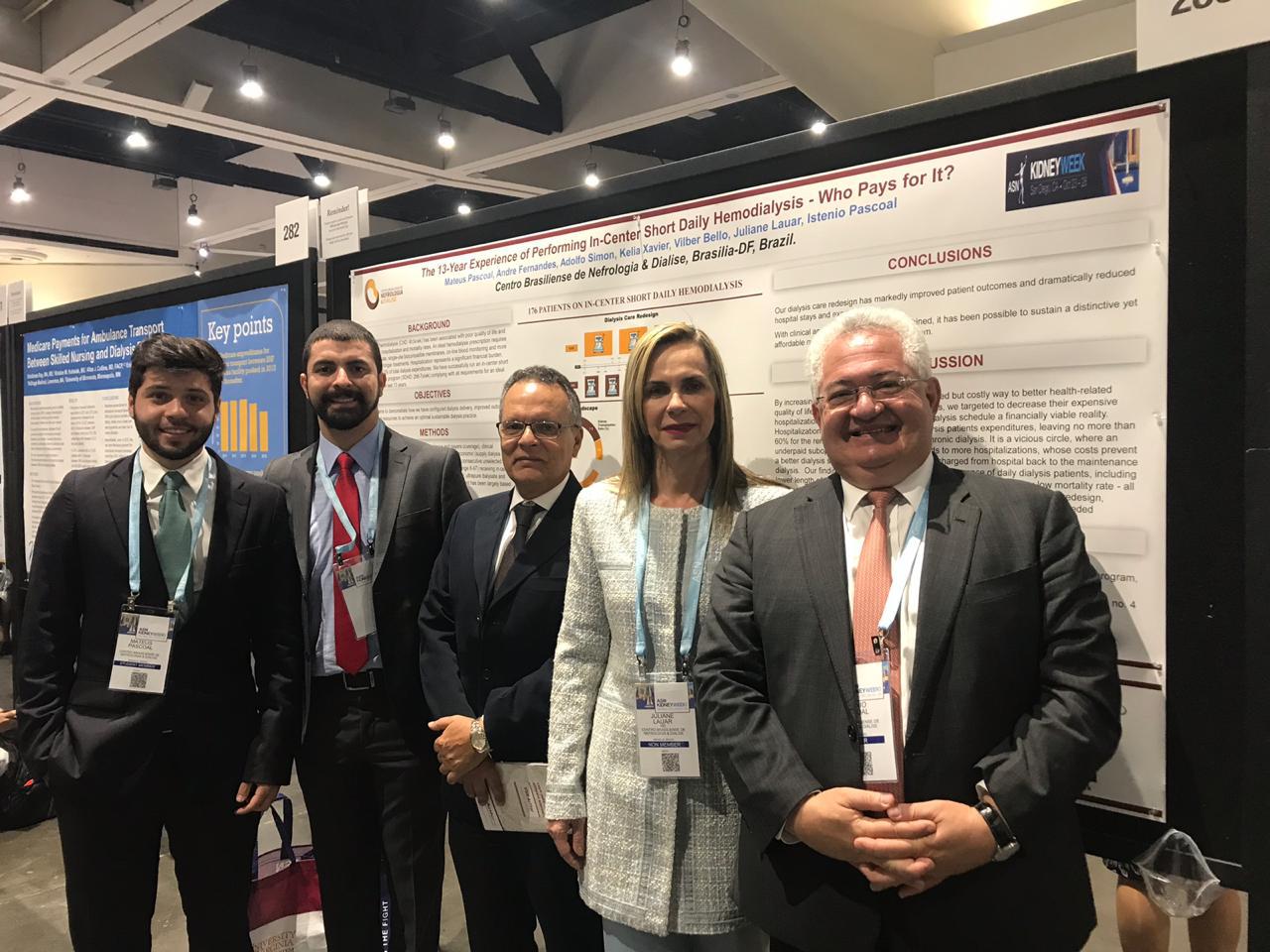 Presenting Authors (from left): Mateus Pascoal, Andre Fernandes, Vilber Bello, Juliane Lauar e Istenio Pascoal